Tripawds is a user-supported community. Thank you for your support!
We first got Teddy when he was eight weeks old from our uncle.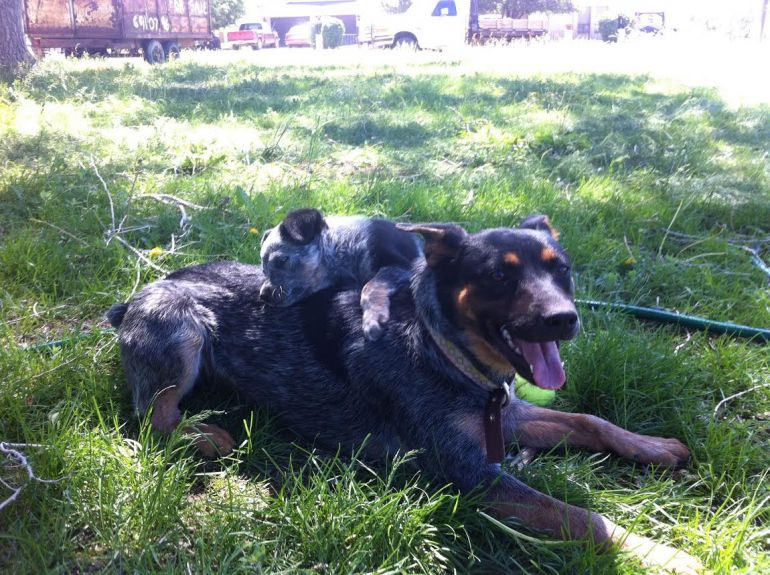 He was the the most stubborn puppy in the whole world.  It took weeks to leash train him. When he wasn't on the leash he would follow along with Lucy, doing whatever he wanted but, every time I would put the leash on him he would just sit his round little behind down and not move an inch.  Luckily he grew out of this stubbornness and has become a well trained dog.
Teddy has a very sweet spirit.  He is one of the bests kid dogs around.  He also has a tenderness to other animals.  I was raising a duckling that didn't walk right.  That duckling spent a lot of time in the house with me and my puppies.  Ted loved the duck! They would take naps together and Ted would make sure that our other blue heeler Lucy didn't get anywhere near it.
About three weeks ago Teddy lost his back right foot when it ran over by a truck.  He gets to spend a lot more time at home now with his new best buddy.  He is recovering really well, already running around and playing with Lucy.  We feel so blessed that we didn't lose our Teddy dog that day.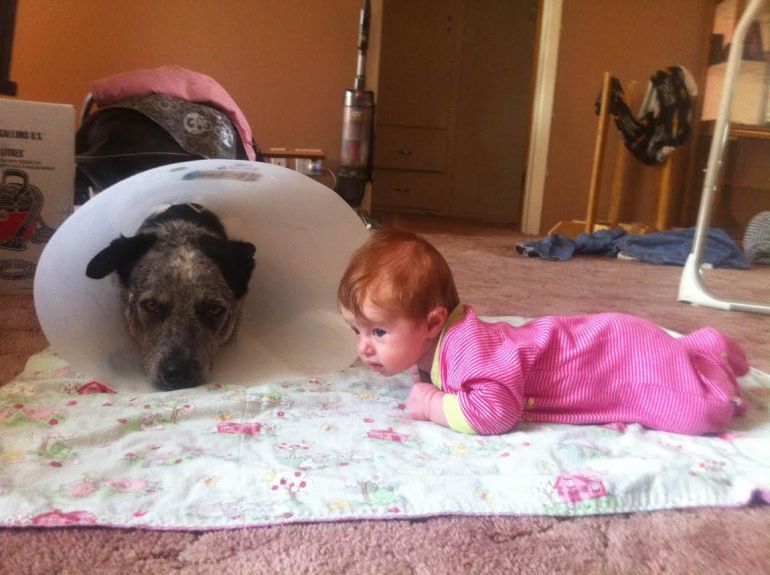 Because of the nature of his accident we had the choice between taking the whole leg or just the foot that got destroyed.  We decided to keep as much of the leg and possible and then to eventually get him a prosthetic.   Today he got his stitches out and the vet told me that around Christmas time he will be ready for his prosthetic.  I can't wait to update about all of that.  Teddy is also training to be a therapy dog.  After we get him healed up he should be ready to get certified.  I am so excited to get to share that journey for him on this blog.
As for today Ted is happy that he doesn't have to wear the cone anymore.  🙂